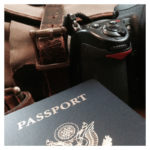 You don't have to go to the four corners of the globe to find good photographs. However, there is something uniquely exhilarating about photographing virgin territory. When you explore new places with your camera every photograph is a discovery. Every click of the shutter is like unearthing a new fossil or an unknown society. You are more than a photographer you are an anthropologist, an archaeologist.
Few places are left on earth that human beings haven't explored. But that takes nothing away from the thrill one gets from one's own discoveries. Documenting those discoveries with the camera lifts our spirits and stokes our inquisitiveness. It pushes us to seek and find more.
Whether it's 300 miles down the coast or on the other side of the planet, traveling to new lands stimulates your inner Indiana Jones. Adventure is around the next bend. Everything is new and different. The people, the food, the music, the art. The geology and the landscape. All there for you to discover for yourself. To fill your brain and broaden your mind; to stimulate your curiosity. It may not be a first for humanity but it's a first for you!
That adrenaline rush, that increased heart rate, those hairs standing up on the back of your neck…that is real.
So what are you waiting for? Pack up the camera gear and get to discovering.