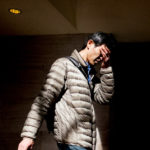 -know your camera inside and out-
Whatever camera you have — SLR, mirrorless, point & shoot, iPhone — what matters most is that you know it! Know its every quirk. Know how the flash system works. Know what all the dials are for. Know every page of the menu system. When you pick up the camera you should not have to think. It has to be second nature. One of the best ways to achieve that comfort level is to get out and shoot as much and as often as possible. But have it down pat before your first big assignment! Don't want to be fooling around with buttons, dials and menus while the bride and groom impatiently stand by!
-R-E-S-P-E-C-T-
I don't think photographers should strictly avoid shooting homeless people or the indigent or the mentally disabled. However, I hope photographers would first ask themselves, "Why?" Why am I photographing that guy sleeping on a bench? That lady in the tattered, dirty clothing? The young man talking erratically to himself? Show some respect. Think before you shoot.
-step outside your comfort zone-
Are you a portrait photographer? A wedding photographer? Have you ever tried street photography or nature photography? You should! Exploring different styles is nerve wracking and exhilarating at the same time. It also gives you an informed appreciation for the work of others. And it affects the way you shoot your everyday work. Much of what you learn from one genre can be applied to another. Expand your horizons.
-become an avid reader-
Fiction and nonfiction. Learning how the world works and seeing the world through the eyes of others is vital for a well rounded life. Reading lets us step outside our bubble, literally and figuratively. Ultimately, this helps photographers approach their subject with more empathy, creativity, and thoughtfulness.
-avoid cliches-
Give the obvious a wide berth. Someone jumping over a puddle? A cactus in foreground with snow-peaked mountain in background? An old nun walking past a poster of a scantily clad woman? If you think you've seen it a million times before, do yourself (and the rest of us!) a favor, don't click the shutter.